(Featured listings displayed first)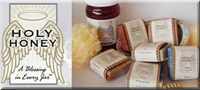 A Blessing in Every Jar
Great gift...perfect outreach tool!


www.holyhoney.com

562-450-8139
We are not just another honey company. We are passionate about Jesus and He is passionate about YOU. Our products include Wedding Favors, Baby Shower Favors, Honey Soaps & Lotions, Lip Balm, Raw Honey, Honey Sticks and more!