Displaying 3 entries for "TA Krause"


(Featured listings displayed first)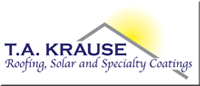 Northern CA

Roofing, Solar, Gutters & Specialty Coatings. Family run and owned, T.A. Krause, Inc. is a third-generation roofer with a professional team serving Northern CA. Our knowledgeable staff & team is available anytime to chat about your potential project.
Roofing, Solar, Gutters, and Specialty Coatings.
Northern CA

Roofing, Solar, Gutters, and Specialty Coatings.
Northern CA