Displaying 3 entries for "Fabric"


(Featured listings displayed first)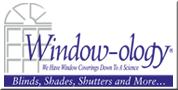 Blinds, Shades, Shutters and more...
4225 Stanley Blvd., Pleasanton 94566


www.window-ology.com
Window-ology brings our selections and service directly to your door. Our team will come to your home or office to measure your windows and install your new coverings. We give you the service and attention you deserve!
2743 Castro Valley Blvd., Castro Valley 94546

Upholsterers and Upholstery Fabrics
2751 Castro Valley Blvd, Castro Valley 94546